This is a very figure-enhancing pattern! I have been "making" this dress since the pattern came out. And it has actually been made for about a month now. I am just having a little extra time to post.
I don't have pictures of me in it even though I have worn dress. Let me make you "sewer be ware" this dress is short. I am 5'3" and it is well over the knee. I kept pulling it down when I wore it to church. (It was a last minute decision and that's what came out of the closet.) My husband suggested I save that for our night out.
Cool! No complaints here!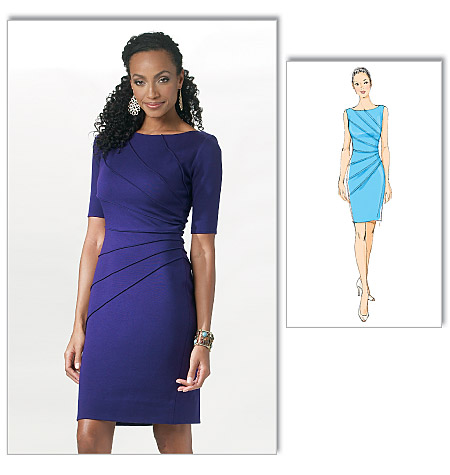 I even made mine in a just a tad lighter blue. I love blue.
Before I get to anything else, I do want you all to know that I WILL BE MAKING THIS DRESS AGAIN. Only because I really like it and want to redo some of those lines which really have curves in them and were kind of hard to maintain because my fabric was a bit slippery and there are darts (tons of darts) to work around.
PATTERN DESCRIPTION: Maggie London (who just happen to design items that flatter any figure.) Misses' dress labeled 'easy'. Copied and pasted from the web-site: Close-fitting, above mid-knee, pullover dresses A, B have front and back darts and outside stitched tucks. A: above elbow length sleeves. B: sleeveless. I made the sleeveless, B version.
PATTERN SIZING: AA (6 through 12) and EE (14 through 20). I cut on the line 14.
DO IT LOOK LIKE THE PHOTO OR DRAWING WHEN I WAS DONE? Of course! And I am glad it does because for date night I am pairing this with my knee high boots and neck scarf. (Or my new leather jacket. This depends on the weather.)
WERE THE INSTRUCTIONS EASY TO FOLLOW? Well, umm. Yeah. Once you get past the tediousness of the darts and tucks, everything went well. (And that's not an instruction issue just a fiddle issue.)
WHAT DID I LIKE AND DISLIKE? I love the dress, it's lines and body flaw hiding capabilities. Dislikes? It runs tight and short (not a good combo) but not hard to combat. Just a word of caution: there are no lengthen or shorten lines for the waist or bodice areas. For me, I'll just add length to the hem.
FABRIC USED? I used this fabric that was such a pain in the neck! It slipped here, slid there, rolled everywhere. Starch didn't do a thing but leave iron marks that was VERY GREATFUL they washed out. Other than that, the fabric was a mystery Wal-Mart fabric from the stash that I do remember reading "fiber content unknown" on one bolt and on the other bolt that was apparently the same fabric "100% polyester". So, I'm going with the polyester.
PATTERN ALTERATIONS OR DESIGN CHANGES? None besides using a smaller hem because of it's shortness.
WILL I SEW IT AGAIN AND DO RECOMMEND? Yes, I am sewing it again so that I can defy all rules and wear white after Labor Day. Recommend? YES, Yes, yes.
CONCLUSION: I don't have any photos of me in it but here is a back and front view of Aloe in it.
Excuse the back ground. These pictures were taking while in the process of trying new things.
Until later, or at least until I can get more photos, Schey.