Hi, All. Although it seems as though I've started another hiatus after just coming off one, I promise, I've been sewing. I just haven't had a photographer who can take some decent photos.
My nieces and nephew came to visit while Mommy and Daddy celebrated their 3 year anniversary. So, what better way to keep the girls, ages 9 (my daughter) and 15 (my niece), made some DIY shorts that sells from $35 to $98. They made their jeans for less than $5. WooHoo!
Here's the video that they found on YouTube and got busy with.
She has some great videos. Check them out sometimes.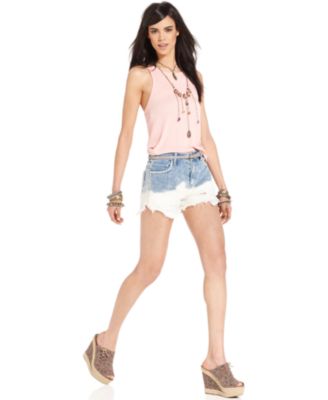 These are regularly $88, on sale for $65 at Macy's. K-Mart is even in the race with their version.
They are $13.
The process went ok. The bleach didn't work as well on the dark colored jeans but it's ok. The girlies were left to decorate their pants the way they wanted to. My Bedazzler., yes ,I have one. I mean, who doesn't, got much needed use. So, I won't go on with babbling, here are the photos of the weekend photo shoot.
Here is the second pair that my niece made. She made tabs on the side and added stars at the pockets.
Photos with Aloe.
The red skirt on Aloe (my dressform) is V8711. I am tweaking it and have to decide on a top for it.
Oh, by the way, I love this skirt. It is soooo sexy!
Until later, Kisses and Hugs galore. Just don't touch my hair! lol Love you guys.
Scheryka